"It's going to be a massive year. I think you're going to see some huge breakthroughs. I think some people will nail it and get it really right.
"But you're going to see some massive implosions. Some people are going to get it super wrong.
"I don't know what's going to happen for me."
That's Justin Metzler's take on a fascinating 2022 season and in this second part of our in-depth interview we focus first on the training improvements he's looking to make and, secondly, on where he hopes that will put him in the long-distance pecking order .
All in early on
Last year was a breakthrough one, but having qualified for Kona – or what's now St George – for the first time, he's hitting the ground running with his training regime, logging super-hard training sessions through the Christmas and New Year period to give himself the best possible chance when the racing starts.
The videos he's been posting on his YouTube channel paint a clear picture.
And as he hinted in the first part of chat with him, plenty of that motivation came from IRONMAN Florida when an unrepairable tire cost him 40 precious minutes.
"Yeah, I think some of it is off the heels of Florida, just having that kind of performance where I felt like I had executed an exceptional race but didn't really have anything to show for it other than my own personal metrics.
"To have a bunch of PBs is great. But you also want to come back with a podium and you want to come back with a Kona slot.
"So to go there and have what I thought was like a Kona-qualifying performance but not have that to show for it, I definitely left the season feeling very motivated.
"And I think it was a blessing in disguise because I'm training on a new level now – with an increased level of focus and an increased level of attention to detail, and some of that is motivated by external factors as well."
A year like no other
And one of those factors is the unique calendar facing Metzler and his fellow long-distance pros.
"You look at St George being in May now. It's not the normal timeline and I feel like I've always been a bit of a late starter, it takes me a couple of races get rolling.
"And so that's why I pressed the issue early this season to say like, okay, I need to be ready in May, so I've got to be forcing it a bit in training during January and February time.
"I'm training full gas right now, which is good, but it's also tough."
As well as the work at home in Boulder he's also been busy in the wind tunnel and then started February on a training camp in San Diego.
Tunnel vision
He's crystal clear and very honest when assessing the areas he's focusingsing on most.
"I think the bike is my area of ​​weakness so I'm doing everything I can with my bike sponsor [Quintana Roo] and their new V-PR, working on aerodynamics and investing everything that I possibly can improve on my cycling.
"I think I'm swimming and running at a really high level. I wouldn't say world-class level yet. I'm still working towards that.
"I need to improve maybe another 3% to 4% on the swim and probably a similar amount on the run.
"But I think the bike is probably more like in the 5% to 8% range of improvement. In order to really make that big jump to where these uber-bikers are. In fact you can't even use that term anymore as everyone is a great cyclist."
Metzler has a strong and stable coaching team around him, with Julie Dibens overseeing things, Matt Bottrill helping with the cycling and Erin Carson on the strength work.
He explained: "I first started getting coached by Julie Dibens at the end of 2018 going into 2019. And I still am coached by her.
"She originally had taken on all of my coaching – swim, bike and run. And then we sort of recognised that as we started working together, my swim and run were really coming on, but the bike was the area of ​​weakness that needed some attention.
"And she had worked in conjunction with Matt Bottrill, who's a cycling-specific coach in the UK, and they coach collaboratively with other athletes. And that just felt like kind of the next professional step for me to be coached by the two of them.
"It's been kind of a long term project and yeah, I feel like I've seen a lot of promise in training and I'm hoping that this is the year where we see it on the course."
The latest signs are promising. And he's already seeing dividends from his recent wind tunnel testing – his power is up, yet he's also found a more comfortable aero position.
And benefits continue to come in courtesy of the ongoing work he does with Carson.
"The strength training has been a massive component of my plan, particularly this year, because we're trying to get that extra wattage on the bike. So I've been doing a lot of really hard, specific work with Erin."
Stars and stripes
And Metzler makes no secret of the fact that his regime is also in response to the bar being raised by his rivals.
He explains: "We're also seeing a potential changing of the guard and a shift in the overall landscape of professional triathlon with what Kristian [Blummenfelt] and Gustav [Iden] and the Norwegians are mainly doing. And I'll also throw Sam Long into that category."
It was fellow American Long who won IRONMAN Coeur d'Alene last year, the race which saw 'Big Metz' claim his World Championship spot.
At 26, Long is two years Metzler's junior and it's a friendly rivalry which goes back a while.
"I've known Sam for a really long time. He's a Boulder guy and I moved here in 2015. I sort of immediately became aware of him because we were actually both sponsored by the same Timex Multi-Sport Team at the time.
"I was actually a stronger athlete than Sam at that point. He was this new pro, just getting going. And yeah, I was beating him in all the races. And then the next year, next thing you know, we're pretty even.
"And then, he's kicking my ass! And now he's kicking everyone's ass. I think just both being young Americans in the same town going for the same goal, there's inherently going to be a bit of a rivalry.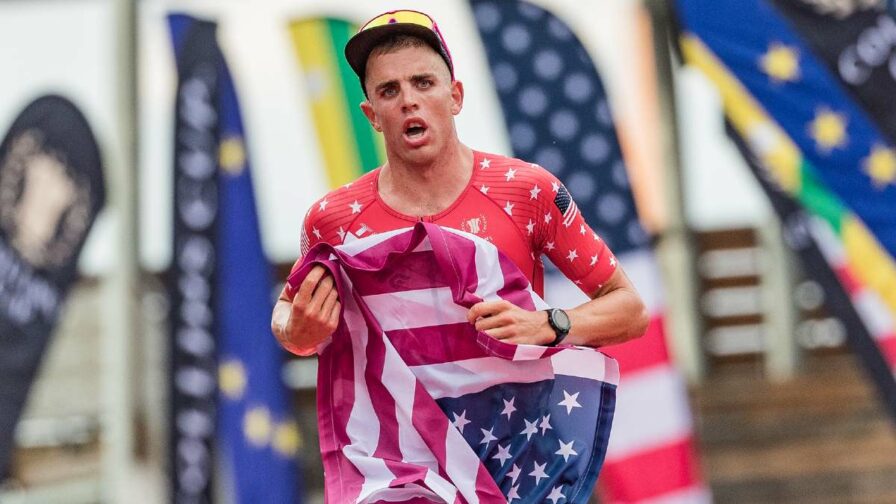 "And not just because we're both big and tall and strong, but we're just trying to do the same thing.
"And particularly with Sam being so close to home, I see what he's doing from a training perspective, and it motivates me to do the same, if not better, because I want to beat those guys.
"So that's what I'm trying to do now, do everything that I can with my team to try and be as close as possible.
Young guns
"I'd like to think that Sam and I are in the group coming through. And I'll also include Ben Kanute in that and Rudy Von Berg. If you want to go international, you can look at someone like Frederic Funk or Daniel Bakkegard. These are all guys who are between 20 and 30 who I think will be the next generation.
"I hope I'm included in that, at least in the American discussion."
The next 12 months will answer many questions and two IRONMAN World Championships is unchartered waters for all those athletes.
As to who "will nail it and get it really right" and who will "get it super wrong", only time will tell.
For now Justin can only focus on himself and he confirmed: "I know I'm seeing really good numbers now.
"I'm feeling very strong and I'm coming into the fitness that I think I need to.
"But yes, we'll just have to see – the proof will be in the pudding once we get out there on the racecourse."
In the final part of our interview we'll cover off Justin's main aims and ambitions for the year ahead and hear how he's inspired by training with his heroes, while also doing everything he can engage with a rapidly-growing fanbase of his own.