He may only be 28, but qualifying for this year's first IRONMAN World Championship in May was the culmination of 15 years of hard work for Justin Metzler.
From his first encounter with triathlon at just 13, it's been the dream – and remained so as he moved his way up the ranks.
It was realised with his second place to fellow American Sam Long at IRONMAN Coeur d'Alene in the middle of 2021 but as he told us when we sat down with him to look ahead to the 2022 season, while it was a "landmark" achievement , it's not the "final destination".
Early days
In his youth and at well over 6ft tall, 'Big Metz' wanted to get into the NBA as a professional. "But when I got to high school, I didn't really cut it in terms of the skill that you needed," he told us.
Basketball's loss turned out to be triathlon's gain, and a lot of that was down to his Dad.
Justin takes up the story: "He was racing Ironmans and 70.3s when I was a kid. He had picked it up as a hobby to lose some weight. He played American football in college and so he's always been kind of a big dude.
"I was into the basketball but when that didn't quite work out, he saw I was still so passionate about sports and said 'why don't you come train with me?'"
Justin was hooked from that moment on and was just 15 when he did his first 70.3 event.
He remembers: "It was the Spirit of Racine Triathlon in Wisconsin. But it was then purchased by IRONMAN and as a 16 and 17-year-old they wouldn't allow me to do it because their age requirement was 18 so I had to sit out for two minimum years!
"The long course stuff has always drawn me in. Even as a 13-year-old, I was obsessed with Kona and that whole scene."
Craig Alexander was one hero – and Justin had a Trek/K-Swiss poster on his wall featuring Julie Dibens and Tim O'Donnell, now his coach and training partner respectively.
But the 2014 USA Triathlon Rookie of the Year had to wait until the 2017 season before earning his first professional victory.
In it for the long haul
But fast-forward to 2021 and the years of progression saw him stamp that Kona – now St George – ticket at Coeur d'Alene when he was second to Long.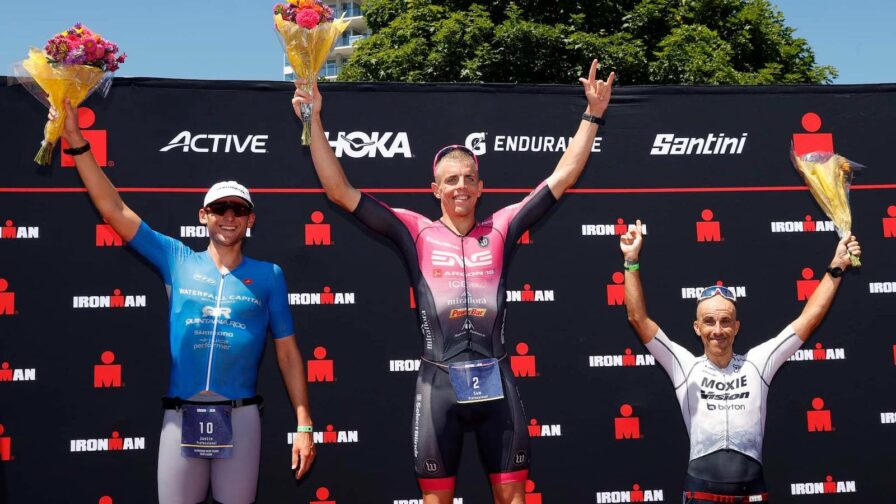 "I'd been dreaming pretty much my whole life about crossing the finish line and have Mike Reilly say not just you're an Ironman, but you've qualified for Kona.
"I mean, the amount of times that I sat and watched Kona, I can't even tell you. Hundreds of times, riding the trainer and running on the treadmill, motivating my training.
"Craig Alexander and Macca [Chris McCormack] were kind of the two main guys going at the time. So to achieve a lifelong goal that I've been striving for at close to 15 years was pretty special."
But from that incredible high point, came a jolting low.
Flattened in Florida
With IRONMAN California blown away by the weather, Metzler changed plans and headed to Florida in early November and it was clear early on that he was again in top form.
He recalls: "I was on track to have pretty much my best-ever Ironman. I was second out of the water behind Robert Kallin.
"And on the bike, I was producing my best-ever Ironman power. But then a flat tire that was unrepairable put me on the side of the road for over 40 minutes."
If you haven't already watched the video below from Justin's YouTube channel, then you really should as it tells the story and underlines the emotions better than words ever could.
But the upshot was he somehow picked himself up, got back on the bike and went on to run a 2:42, his fastest Ironman marathon. Gustav Iden would go on to win, ahead of Lionel Sanders, while Metzler was ninth – with less than those painful 40 minutes between himself and Kallin, who occupied the final podium spot.
Looking back now he calls it his proudest Ironman moment so far: "Finally, when I got the tire repaired and made it back to T2 I said I've got to finish what I started here because my goal is to see what I'm made of.
"I hope that showed a little bit of my character in the sense that I'm in this for more than the money, the fame, or whatever. It's about pushing and seeing what I've got and I found out what I was made of mentally and physically.
"I think if anyone watches the video, it showcases what Ironman means to me. There's wins and losses and that's obviously an important component of being a professional athlete.
Made of strong stuff
"But for me, as it has been my entire life, an Ironman is more like a personal conquest than it is like anything else. I'm trying to beat everyone else, but I'm also trying to find out what I'm made of. And that's what draws me so much towards it – the fact that you get to explore an aspect of yourself that you possibly didn't even know existed beforehand.
"And I think that's something that age groupers can really also relate to. What makes the sport awesome is the fact that at all levels, you've got professional athletes and amateur athletes trying to just do their best."
Looking back now on Florida, Justin reckons it was the springboard to what's been an incredibly productive couple of months of training to set up the new campaign.
"To have a bunch of PBs in Florida was great. But you also want to come back with a podium and you want to come back with a Kona slot. So I definitely left the season feeling very motivated."
And in the next part of the interview we'll focus on the improvements he's been making, where he sees himself in the long-distance pecking order and what his goals are as he continues that journey in 2022.